Over the past several weeks, I have had the opportunity to sample a whole host of gluten free snacks.  From chips to cookies, granola to yogurt bars, I've tasted quite an array of food.  Today I want to provide an honest review for you.
For complete disclosure, many of the companies (not all) featured today gifted me free samples of their products for the purpose of a review.  This was my idea, and I made the initial contact with each company.  Having said that, my opinions are my own and have not been paid for.  I provide an honest assessment of each product.
Products That I Loved (and would buy again)
Savor By Suzie (gluten free pretzels)
$5.29 per bag (online price)
These were my favorite new find.  I loved everything about these. They tasted great and contain ingredients that I am comfortable with.  They come in many varieties (you must try the chocolate covered pretzels – they are amazing).  The company also has great purpose and a wonderful story!  I highly recommend these!  For a thorough review, check out my previous post.
My family has been munching on cassava chips and plantain chips for a while.  I love them as grain free options.  I really love the strips from Artisan Tropic.  They feel very light, in the sense that they don't feel laden with oil as some fried chips do.  They are not overly salty, and they have a great crisp to them.  The only downside is that the 4.5 ounce bag is finished in a snap (at least in my home).  They have sharing size bags available.  I highly recommend these!
Lil Bucks 
Sprouted Buckwheat Crunch $6.99 – 6 oz. bag
Clusterbucks $6.99 – 6 oz. bag
I had never heard of this company before and never ever thought about snacking on buckwheat (which is naturally gluten free despite its name). Buckwheat is packed with nutrition so the thought of using it as a base for some crunchy snacks sounded great to me.  My first taste test left me on the fence, to be honest.  I didn't dislike them, but they were markedly different from other snacks I was used to.  But the more that I munched on them, the more I grew to love them.  My son had the exact same experience, so much so that the other day he exclaimed that we were out of Lil Bucks, and we needed to get more.
The Lil Bucks are crispy little buckwheat seeds.  You wouldn't eat these in great quantities, but a handful is a very satisfying treat.  They also are a superb topping for yogurt or are great to sprinkle on oatmeal to add texture.  I think that these would be fabulous in a chocolate candy (kind of like a Nestle Crunch bar – I'm working on it for Easter).
The Clusterbacks are a bit like traditional granola, but different as well.  My son really liked these.  I preferred the Lil Bucks seeds myself.
I also loved that the products are sweetened with maple syrup and that every ingredient is a whole food.  It's all the real deal, and for me, that sealed the deal.  This was a great find!
Undercover Snacks (quinoa and chocolate  snacks)
$3.99 – 2 oz. bag
available online and in many stores
I first picked these up last year as a stocking stuffer for my son.  He wound up not being able to eat them because of issues that he has with sunflower oil, but I tried them, and I LOVED them!  These snacks are basically chocolate and quinoa wrapped up together in a snack.  And don't be fooled, this snack is heavy on the quinoa – you can see it and taste it.  It's almost a 50/50 split between quinoa and chocolate.  They also have several varieties containing various dried fruits such as cherries, blueberries, currants, and pomegranates.  My favorite were the sea salt and cherry varieties.
These snacks satisfy a sweet craving.  I love that protein rich quinoa is a major player in these treats.  I also love that these are readily available at many retail stores (my local Kroger carries them).
The one thing I don't like is the addition of inflammatory sunflower oil.  It seems like everything under the sun has sunflower oil in it now.  It's just not a good quality oil to use.  However, I wouldn't hesitate buying these as an occasional treat.  They are delicious, and I know you'll love them!
Emmy's Organics (coconut based cookies)
$5.99 – 6 oz. bag (about 9 cookies)
available  online and at stores
First, let me say this:  these are not cookies.  However, they are a delicious little snack.  I had picked these up for the first time a few months ago from my local Fresh Market.  I was expecting a cookie and was initially disappointed when these didn't taste or have the texture of a cookie (soft or crispy).  But, but, but – as I said, I really like these.  Look at the ingredient list for yourself.  Simple ingredients that come together to make a delicious treat.  My youngest son loved these as well.
They have a distinctive coconut taste and texture (it is the first ingredient).  They come in a variety of flavors including chocolate chip, vanilla bean, birthday cake, and dark cacao to name a few.  My favorites were the chocolate chip and the vanilla bean.  Both are really flavorful.  I just saw on their website that they also have chocolate covered cookie bites.  I need to find some of those!
Just an allergy warning:  these contain almond flour and some varieties contain peanuts.
Real Cookies
$3.49 – $7.00
available online
I had never heard of this company or product before, but with a name like "Real", I had high hopes for these cookies.  Well, they did not disappoint.  A product gets my attention with a small ingredient list.  These cookies and their little cookie poppers are made with a handful of real ingredients such almond flour, maple syrup, and coconut flour as their base.  Other ingredients like chocolate chips, peanut butter, and dried blueberries are added in.
I really love the different packaging options.  You can buy a bag of Poppers (small little cookie bites) or prepackaged cookies.  Each little prepacked cookie package contains 2 cookies.  I loved these little packs.  I could just pop them into a lunch bag – which I loved!
These cookies are gluten free, grain free, and plant based.  The taste was so good.  The cookies had the perfect amount of sweetness – just enough to satisfy, but not too much.  While I loved the chocolate chip variety, I really loved the lemon blueberry.  It's just not a flavor combo that you see often in the cookie aisle, but it's one of my favorites.  Love them.
These cookies were one of my favorite new finds.  I think you'll love them too.
Again, just be aware there is almond flour in these.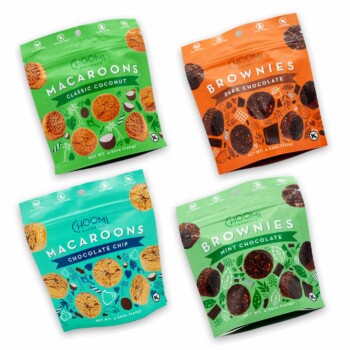 These little treats have an unsweetened coconut base.  They are soft little flavorful bundles and come in different flavors such as dark chocolate, chocolate chip, coconut, and mint chocolate (which I loved).  I had a few concerns about these.  First, they contain inflammatory sunflower oil.  With so many other more healthy options, I would like to see a different type of oil in these.  Second, there are multiple sources of sugar in these.  All of the varieties contain both coconut sugar and evaporated cane sugar.  Some also contain dates and honey in addition to the sugars.  It's a lot of sweetness and sugar in one very small cookie.  Having said that, I wouldn't be opposed to buying these again for my husband (he really loved them) for an occasional treat.
Michele's Granola
$7.99 – 12 oz. bag
available online and in stores (I found them at Kroger)
I don't buy granola very often, but when I do I really want something that satisfies.  I am pretty discriminating.  I had never heard of Michele's Granola before despite probably having walked past it every week while food shopping at Kroger.  At my store, it's located on the very bottom shelf in the cereal aisle.  I don't buy much cereal at all, so I can see why I zipped past it.
This is really yummy granola.  I personally prefer granola sweetened with coconut sugar.  And while this one is sweetened with brown sugar, I found the sweetness level to be very tame and amazingly pleasant.  Sometimes granola is nothing more than hard, super sweet boulders.  Not this.  Every bite is really light and delightful, and I found myself having to tell myself to stop eating it.  It was really good.  I tried the original (so good) and the almond butter (my husband's fav).  I do see from their website that they have many flavors.  The cocoa chocolate chip, cherry chocolate, and lemon pistachio to name a few.  Also note that the granola is made with gluten free oats, but I do not see that the product is certified gluten free or contains information about the certification and purity of the oats.  As a precaution, you may want to contact the company for more information about the oats.
The company also has nut butters and muesli available.  I really liked the granola.
Purely Elizabeth (granola)
$7.49 – 12 oz. bag
available online and in stores
I tried both the original and chocolate sea salt granolas from Purely Elizabeth.   I really liked the fact that this granola line is packed with so much goodness.
I appreciate that the oats are certified gluten free and that nearly all of the ingredients are organic.  There is healthy raw virgin coconut oil, quinoa flakes, amaranth flakes, and even probiotics in the granola.
The chocolate sea salt granola is amazing.  And again, it was one of things that I needed to tell myself to stop eating.  It was just that good.
I highly recommend this entire line of granola.  And as an added bonus, they are readily available at stores around the country and they come in many flavor combinations.  I really think you'll love these granolas.
XoChitl 
$4.50 – $6.00 – 12oz – 16oz bag
available in stores
There is no contest.  These tortilla chips are my family's favorite.  And it's a clear consensus! Pronounced 'so-cheel', these chips are light and crispy.  They are not too thin and not too thick.  They stand up to salsa and guac dipping well. They are flavorful, not oversalted and are organic.  There's really not much more I can say other than this:  if I need to buy tortilla chips, this is the only one I want to buy.
Siete (cookies)
$4.99 – $5.99: 4.5 oz bag (about 20 small cookies)
available online and in stores
If you have never tried these little rounds of deliciousness, you really must.  These are simple cookies, but they are so tasty.  They have little hints of flavor that kind of pop in your mouth as you eat them.  Check out the ingredients:
Pure.  That's what I think of when I see this.  Nothing in here that I can't stand behind.  No starches as filler.  No inflammatory oils.  No 'natural' flavors.  Just good ingredients that add the perfect pop of flavor.  These are my cookie of choice.  They also come in Mexican Chocolate and Mexican Wedding varities (which I have not tried).
Products That I Reviewed That I Won't Buy Again
These are some products that I tried that I really didn't like.  Everyone's tastes and preferences are different so you be the judge.
I wanted to love these, but I didn't.  They did not taste like Greek yogurt to me.  It tasted much more like cheesecake (which I am not a fan of).  I will say that these sat in my refrigerator for a month and no one touched them after our initial tasting.  I have three college sons.  They eat just about anything.  They didn't like these either.  But, I know many people love them.
Another thing I really did not like was the ingredient list:
Cane sugar (which I know is common in yogurt), palm oil, natural flavor, and sunflower/soy are things I just can't get behind.  These are a no for me.
I really, really, really wanted to love these crackers.  The ingredient list is awesome and clean.  But I just could not get over the sticky residue that the crackers left on my teeth afterwards.  My family had the same experience.  There are many great offerings from this company, so I wouldn't discount them at all.  I just didn't like any of the varieties of crackers that I tried.
Cretors (flavored popcorn)
The company sent me a few complimentary bags of this product in the Cheese and Caramel Mix shown above.  Initially, the flavor combination struck me as really odd.  After tasting it, I felt the same.  This is really sweet.  It reminded me of Cracker Jacks. The ingredient list is also troublesome for me: lots of sugar in multiple forms, inflammatory sunflower oil, and soy.  With so many other healthier snacks on the market, this is a no for me.